WEEKEND FAMILY GETAWAY TO SANTA'S VILLAGE IN THE SOČA VALLEY
When autumn leaves the Soča Valley, a Christmas village awakens in Residence Soča. Evenings by the fire, a visit from Santa Claus, workshops for children, and relaxation in the embrace of the apartment for parents. We might even get the first snowflakes if we are lucky!
Available every weekend in December:
8th to 10th December 2023
15th to 17th December 2023
22nd to 24th December 2023
29th to 31st December 2023
FRIDAY
from 15.00: Check-in at the reception
19.00 – 21.00: Family time by the fire
SATURDAY
SUNDAY
In the evenings, we invite you to hang out by the fire pit in the Residence Soča garden. Our friendly staff will get you everything you need to prepare roasted chestnut or toasted marshmallows. It's time for a cup of mulled wine or hot tea in good company by the fire.
Your children will spend the morning with a sitter. Making lanterns, fairy tales about the Soška Valley and other creative activities will surely make for an unforgettable morning.
If the children are older and don't need a babysitter, we can arrange various sports activities for them.
'You' time: sauna, whirlpool, massage
While your children are having fun in safe hands, you can enjoy an activity that the children are still too young for. Take a hike to the nearby hill or treat yourself to a massage for two in the comfort of your apartment. In addition to classic massages, we also offer access bars therapy.
There's no sight more heartwarming than the gleeful, radiant eyes of children as they spot Santa Claus with his sack of presents. He'll also make a special visit to Residence Soča while you're here, spreading cheer and bring some presents too!
In cooperation with the astronomical society Javornik, we organize a stargazing workshop on Saturday evenings. We will see planetary nebulae, star clusters and planets, the Moon and exciting things from the Orion constellation. 
Winter in the Soška Valley offers many opportunities for exploration and entertainment. Put on warm gloves and go exploring the Soška trail, visit the forgotten Lemovje, and if there is enough snow, you can also go sledging on the Mangart ski slope or on the surrounding slopes and snowshoeing.
To make the memories truly unforgettable, you can pick up a Polaroid camera at the reception and perpetuate your winter experiences forever.
CHRISTMAS MARKETS
AND EVENTS NEARBY
The enchanting glow of countless lanterns ignites the excitement in children's eyes. Villach's old town, adorned with a romantic charm, pulls in visitors like a magnet. With a host of fun and festive events, this Advent season is unlike any other!
As kids hit the ice at Town Hall Square's rink, market exhibitors unveil a diverse selection of handcrafted gift options. An additional standout feature is the Winter Wonder Forest, masterminded by Thomas Brezina, nestled within Park Hotel's park. This is Advent in Villach, the city of lights!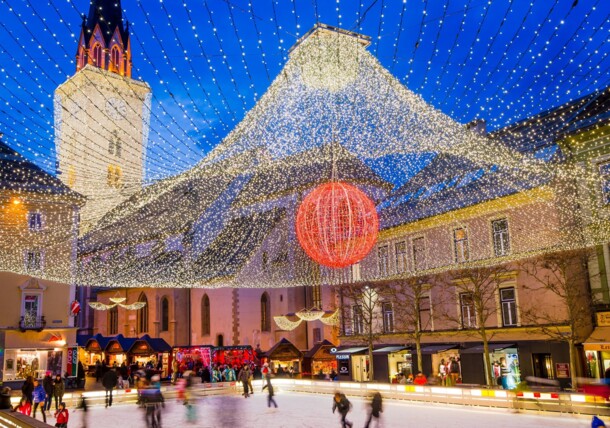 With more than 50 merchants, craftsmen, and chefs, the Christmas Market in Klagenfurt is the biggest and most colourful in Carinthia. At the landmark of Klagenfurt, the Lindwurm dragon, guests can take a picture at the Christmas tree selfie point and send it directly to their loved ones via free-of-charge City Wifi. On Tuesdays, there are special offers for seniors like special city walks, discounts, and a music programme. From Thursdays onwards, guests can enjoy live music at the main stage.
Where: Neuer Platz in Klagenfurt
When: 19 November – 24 December 2023
Opening hours: Open daily from 10 am – 8 pm, 24 December 10 am – 2 pm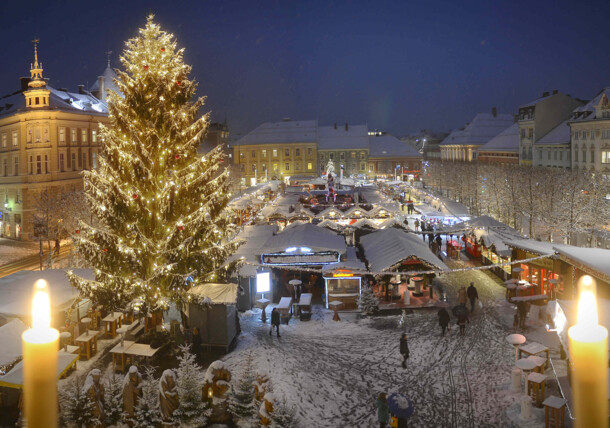 The Pyramidenkogel viewing tower is 100 metres tall and visible far and wide in the Wörthersee lake region. By the foot of the tower, visitors find a quaint Christmas market with crafts, local farmers' products, and music. Kids will be enchanted by the specially designed Christmas house, where llamas, goats, and donkeys pay a visit now and then.
Where: Pyramidenkogel tower
When: 24 November – 17 December 2023 Friday – Sunday from 10 am – 5 pm (+ 8 December)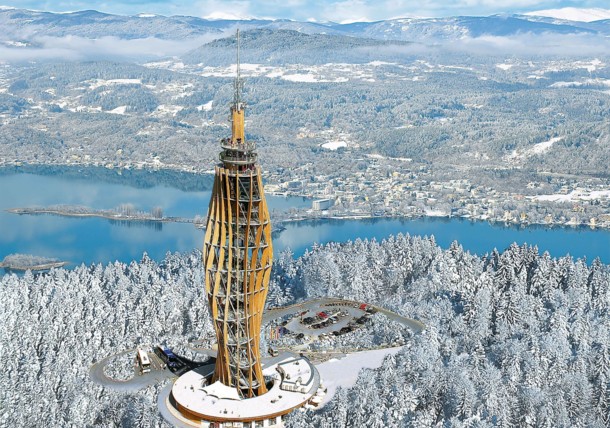 PRICE: from 590 € / weekend
applies to all weekends in December
Included in the price:
2x nights in a Superior apartment for 4-5 persons
1x basket of local specialties;
1x complementary wine Rose Grof 0.75l;
1x treasure hunt at arrival;
use of sauna, whirlpool and outdoor kitchen
time by the fire (chestnuts, marshmallows, mulled wine and tea)
Christmas workshop for children and the arrival of Santa Claus
stargazing workshop*
free rent of e-bikes;
free rent of board games;
free rent of hiking poles / snowshoes and tips on personalised hiking tours;
 additional nights available
Extra:
Tourist tax: €2 per adult person per night
Tourist tax: €1 per child (from 7 till 18 years) per night
Pets: €40 per day
SUPPLEMENTS ( for surcharge):
* The workshop will be conducted in favorable weather conditions and with a minimum number of participants.
BOOK YOUR WEEKEND IN THE CHRISTMAS VILLAGE!